HOW TO BUY A CAR IN GERMANY STEP BY STEP
There are many stories on the Internet with examples and experiences of people who have bought a car in Germany. Some of them are true, but many are not.
WHAT ARE THE LEGAL PROCEDURES FOR IMPORTING VEHICLES FROM GERMANY?
The first thing we have to say about bringing a car directly from Germany is that:
It is something normal and very similar to buying it in Spain except for the country, the language and the procedures.
It is sometimes worth it to import a car from Germany(not always), for example when we buy a vehicle which has a lot of extras, with features that we will not find in Spain or they will be quite expensive.
Cars in Germany are treated the same way that in Spain, France, Italy… applying common sense, there are people who take care of them and people who do not.
Germansare much stricter in the mileage and crashes, since they are fined, which means any car purchased in Germany comes with a contract that specifies that the car has not been manipulated regarding the mileage and has never had an accident (if it has, it must specify the costs of reparation).
STEPS TO BUY A CAR DIRECTLY FROM GERMANY
Vamos a intentar resumir los pasos a seguir, en el proceso de compra de un vehículo de Alemania o cualquier otro país de la Unión Europea con nosotros.
If you want us to take care of all the legal procedures to import a car from Germany you just have to pick the car you like the most and contact us. Let us counsel you on how to buy your car in Germany.
EXAMPLE FOR THE PURCHASE OF A GERMAN CAR
A search on mobile.de will look like this:
Mobile.de allows you to find cars from many countries, not just Germany. Do not worry if you like a car from Poland or France, for instance; we can help you to import it and buy it safely and quickly.
Following the last example, once you click the orange button that says "Mostrar resulatdos", a series of cars will appear (in this case 9, among them 7 German cars, 1 Austrian and 1 Russian) where you will be able to see further information about each car, like mileage, previous accidents, power, extras, gas consumption, motor type, etc.
Each file comes with several pictures, from the inside and the outside.
A search on mobile.de will look like this: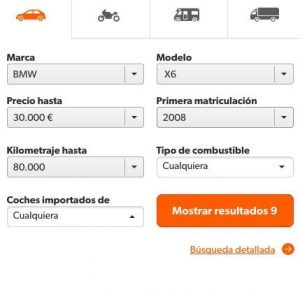 Once you have chosen the vehicle you like the most, all you have to do is to fill in the form in our website so we can start working for you therefore in less than 10 days you may be driving your new car in Spain in a totally legal way.
One more thing you must keep in mind when importing a car is the registration tax, depending on the car model, consumption, pollution, year of fabrication, autonomous community, etc. this tax amount can vary a lot. If you want to know how much you will pay for the registration tax when importing a car, click on the next button:
If you are not sure about which car you will buy in Germany yet, we show you a list of the 10 best sellers in 2018 (we will update this list as soon as more updated official data is published).
10 BEST SELLING CARS IN GERMANY IN 2018
1. Volkswagen Golf -> 155.800
2. Volkswagen Tiguan -> 59.670
3. Volkswagen Passat -> 53.913
4. Volkswagen Polo -> 51.497
5. Volkswagen T-Roc -> 27.767
6. Volkswagen Golf -> 155.800
7. Volkswagen Tiguan -> 59.670
8. Volkswagen Passat -> 53.913
9. Volkswagen Polo -> 51.497
10. Volkswagen T-Roc -> 27.767
It seems like the Germans have already forgiven Volkswagen for lying on their CO2 emissions.